The Primary role of a Vacuum Pump is to remove Air and more importantly Moisture from Air-Conditioning systems prior to regassing.
Moisture Boils off when a vacuum is applied to a sealed system and sufficient vacuum is applied. This is essential to prevent a number of issues that will occur if moisture is left in the system.
Vacuum pump sizing relates to the quantity of air that can be removed over a set period of time and is normally measured in LPM Litres Per Minute or an older measurement of CFM Cubic Feet per Minute. This does not relate to the level that the vacuum can be reduced to which is the most important aspect.
Generally speaking the size of a Vacuum pump is related to the size of the system that it is being used on and below is a guide.
System Size Passenger car – 1.2 -1.5CFM or 34-42 LPM Commercial Vehicles/Trucks – 3-4 CFM or 85-114 LPM Buses and Large Commercial – 5-6 CFM or 142 – 170 LPM
All of Alcius Vacuum Pumps with the exception of the 12V A18-5104 are 2 stage Pumps which means that on the correct sized application will reach the level of vacuum required to boil off moisture in a system.
Vacuum Pumps must also have regular maintenance, ArcTick's Code of practice states.
A.5.4 Vacuum pump oil should be changed either in accordance with the manufacturer's instructions or at regular intervals.
We would suggest at least every 50 hours of use and the larger the Vacuum Pump the more oil it requires so it also makes sense economically to have the appropriate pump for your workshop.
The A18-5300 Starter Kit has an A18-5101 128LPM 2 stage vacuum pump so is more than capable of servicing the vast majority of vehicles that come into an average workshop.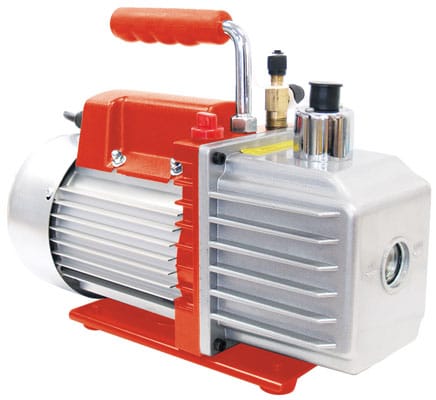 Features:
Free Air Displacement: 128 Lpm / 4.5 Cfm
Ultimate Vacuum: 40 Microns
Stages: 2
Motor: 1/2 HP
Intake Ports: 1/4 Flare & 1/2 Acme
Oil Capacity: 300 ml
Net Weight: 10.25 kg
Information supplied and reproduced with the kind permission of Autoinfo.